Single hydraulic prop maintenance for the pillars, jacks, valves and pipelines and other hydraulic components for repair, disassembly and installation. When maintaining the hydraulic acrow props should pay attention to the following points:
1. Hydraulic Acrow Props maintenance should pay attention to the top plate falling, and do a good job of personal and equipment protection. Replace the hydraulic components (such as struts, front beam jack, control valves, etc.), to use the strut to support the roof beam before the operation. Hydraulic support struts, jacks, control valves and piping systems are not allowed to repair or replace under pressure conditions.
2, Single hydraulic prop repair, disassembly, assembly and inspection process, must use the appropriate tools, prohibit violent knocking, the smooth surface of the gas certificate piston, the valve parts of the valve shaft and sealing surface, pipe joints and connections of the threads, etc., to prevent damage and avoid increasing the difficulty of maintaining the hydraulic bracket.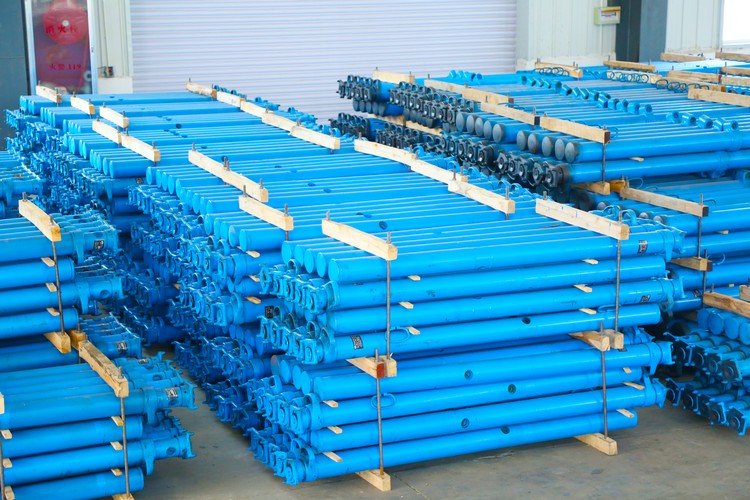 3. Suspension hydraulic prop maintenance for the disassembled parts, to mark and measure the necessary dimensions, and put them in the appropriate location. The small parts removed (do gaskets, cotter pins and sealing rings) should be put in the tool bag to prevent loss.
4, the suspension hydraulic prop on the use of the cylinders and valves and other wave pressure components, generally do not allow the disassembly and commissioning in the well, if found that the problem can not continue to use, must be replaced in groups, sent to the well for repair. Each cylinder in the downhole disassembly and transportation process, it should first shrink it to a very low length, easy to carry and prevent the piston rod Surface bruising and rusting.
5, the single hydraulic prop maintenance ready to replace the hoses, pillars, the top and various valve parts of the inlet and outlet, must be protected with a suitable plug, and in the process of storage and handling, to prevent the plug screw off and fall off, so as to avoid dust and dirt into the cavity, affecting the normal work of the hydraulic system.