Recently, after strict inspection and comprehensive assessment by the EU certification body, the ZM08/ZM09/ZM10/ZM102/ZM10NEW/ZM12/ZM15/ZM16/ZM17/ZM18/ZM20/ZM22/ZM25/ZM30/ZM35/ZM40/ZM45/ZM50/ZM55/ZM60/ZM75/ZM85/ZM130/ZM210/ZM220/ZM250/ZM300/ZM350/ZM400/ZM450/ZM500/ZM550/ZM600/ZM650/ZM700/ZM750/ZM800/ZM850/ ZM900/ZM950/ZM1000 42 specifications and models of excavators have successfully passed the EU CE certification and obtained the EU CE certification.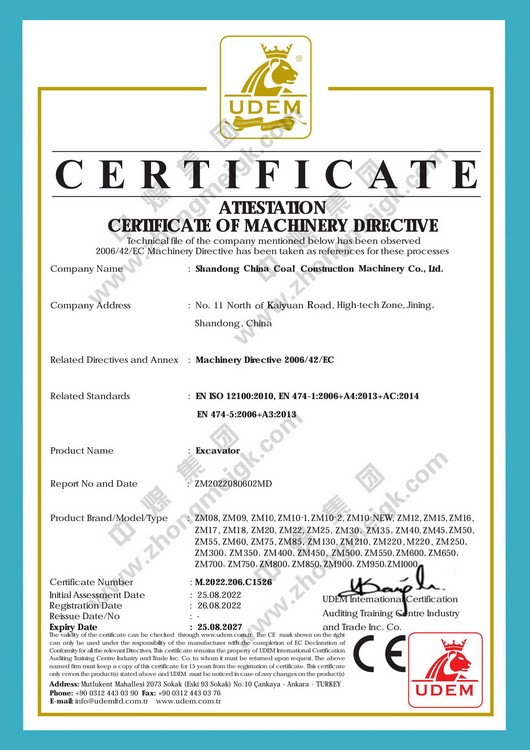 Various models of excavators independently developed and produced by China Coal Group have undergone all-round technical upgrades in power systems, hydraulic systems and electrical systems, improved engine emission standards, and adopted a number of safety assurance measures to ensure high product quality. Reliability, high security and high energy efficiency. At present, China Coal Group has exported a number of excavator products to high-end markets in Europe and the United States. With its excellent product quality and timely and efficient after-sales service, it has won wide acclaim from customers and further promoted the pace of expanding the international market. As a cross-industry , a large-scale enterprise with diversified operations. Over the years, China Coal Group has adhered to the global development strategy of being based on the world and looking at the world, and has passed ISO9001 international quality management system certification, SGS international authoritative certification, EU CE product safety certification and many other international Authoritative certification has reached international quality certification standards in terms of product research and development capabilities, production capabilities, import and export trade capabilities, quality management systems and product certification, and has established a good reputation at home and abroad!
In recent years, China Coal Group has actively responded to the call of the state and vigorously promoted intelligent manufacturing. Since the establishment of the company, it has continuously increased investment in scientific research. The group's research and development products have always been of high standards and high requirements. This time, many models of excavators developed and produced by our group have successfully passed the EU CE safety certification, which further shows that our group has been internationally recognized in the field of construction machinery in terms of product quality and safety, marking its production control, technology research and development. , product quality, safety and environmental protection and other aspects have met international standards and EU directives, which will help enhance the influence of China Coal Group in the international market and lay the foundation for accelerating the development of the international market. In the next step, our group will further increase the technical research and development of products in the field of construction machinery, produce more high-quality, high-tech excavator products, and make more positive contributions to the development of the global construction machinery industry!